Discover the Mist of the 5 continents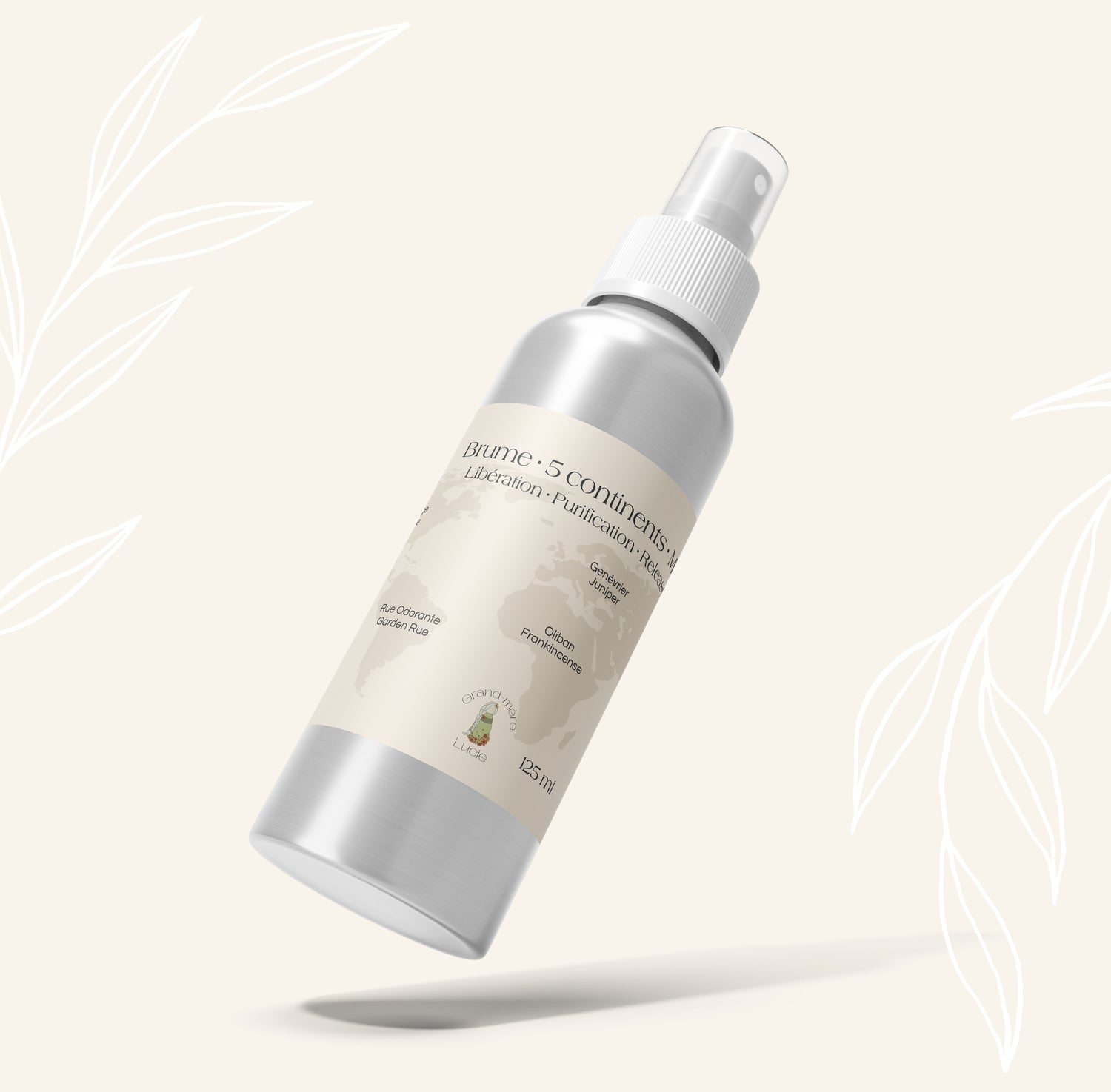 Soothing and purifying vocation
When Grand Mother Lucie created this mist, her intention was to bring together the best of the 5 continents to help offer more peace and harmony by purifying the air and energies.
The mist of the 5 continents combines the properties of plants known to promote relaxation, calm and serenity. It acts with efficiency and speed on the person who uses it, as well as on his environment, to purify and make room for the energy of renewal.
It promotes restful sleep due to its soothing character. It allows you to undertake an important activity with more calm and confidence.
It will become your best ally to enhance a session of yoga, meditation, relaxation, etc. because it promotes relaxation and harmony.
When using it, you will feel more centered and therefore more efficient and inspired, whatever the circumstances.
The mist of the 5 continents can also be used as an offering in traditional ceremonies.


Key ingredients:
Lavandula officinalis (HE Lavender), Tsuga canadensis (HE Hemlock), Salvia apiana (HE White sage)

Aromas:
warm, sweet, energizing, nourishing.

Ritual of use:
Apply in a circle in the palm of the hand, join and rub the hands, then feel while inhaling in the joined hands parted.
thought of intention
"I am whole, clean, upright and free. »
Lucie shows you the ritual of use
How to use
For release (repeat as needed): spray above your head, then around you.
Close your eyes and inhale gently, deeply to the bottom of the abdomen; in doing so, take the dispersed energies back to you. As you exhale, return those that do not belong to you. It is good to join the action to the thought to give it strength.
Neutralize everything by putting your hands in running water. Repeat 3 or 4 times.
The presence of water is important to neutralize parasitic and disturbing energies. It will lead them to earth.
The objects that have marked your lives and left traces can be people, ideas, situations, places, objects, etc. In fact, anything that you have strongly connected to.
After these exchanges, vigorously cut the link and let life take its course. Freedom is found. It is in your daily interactions, where the intentions of each other intersect, that you must ensure that you maintain your clarity through this energy hygiene exercise.
Would you like to recommend this product?
Mist from the 5 continents, soothing and purifying
Regular price
Sale price
$23.50 CAD
Unit price
per
Sale
Sold out
Share
View full details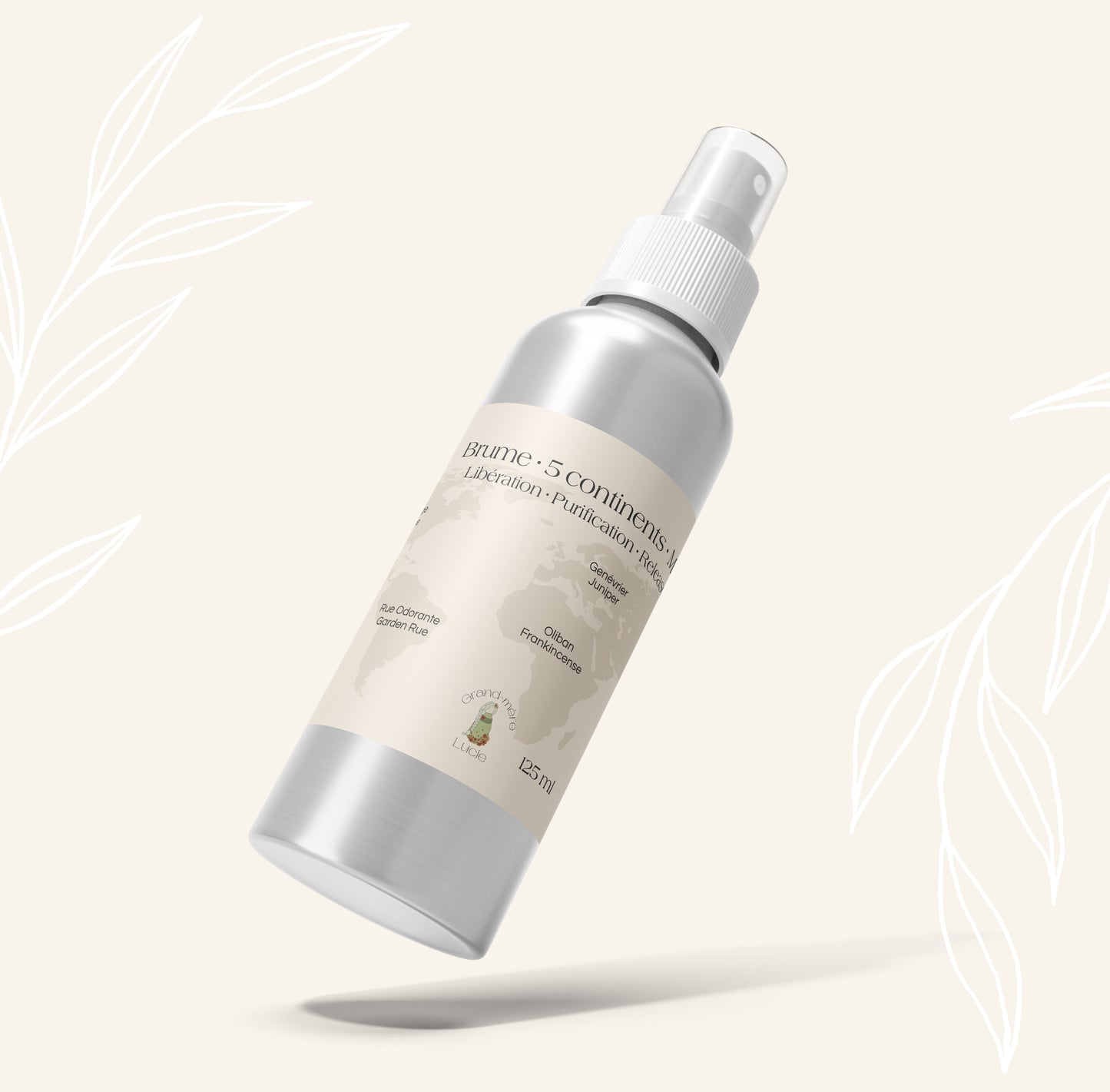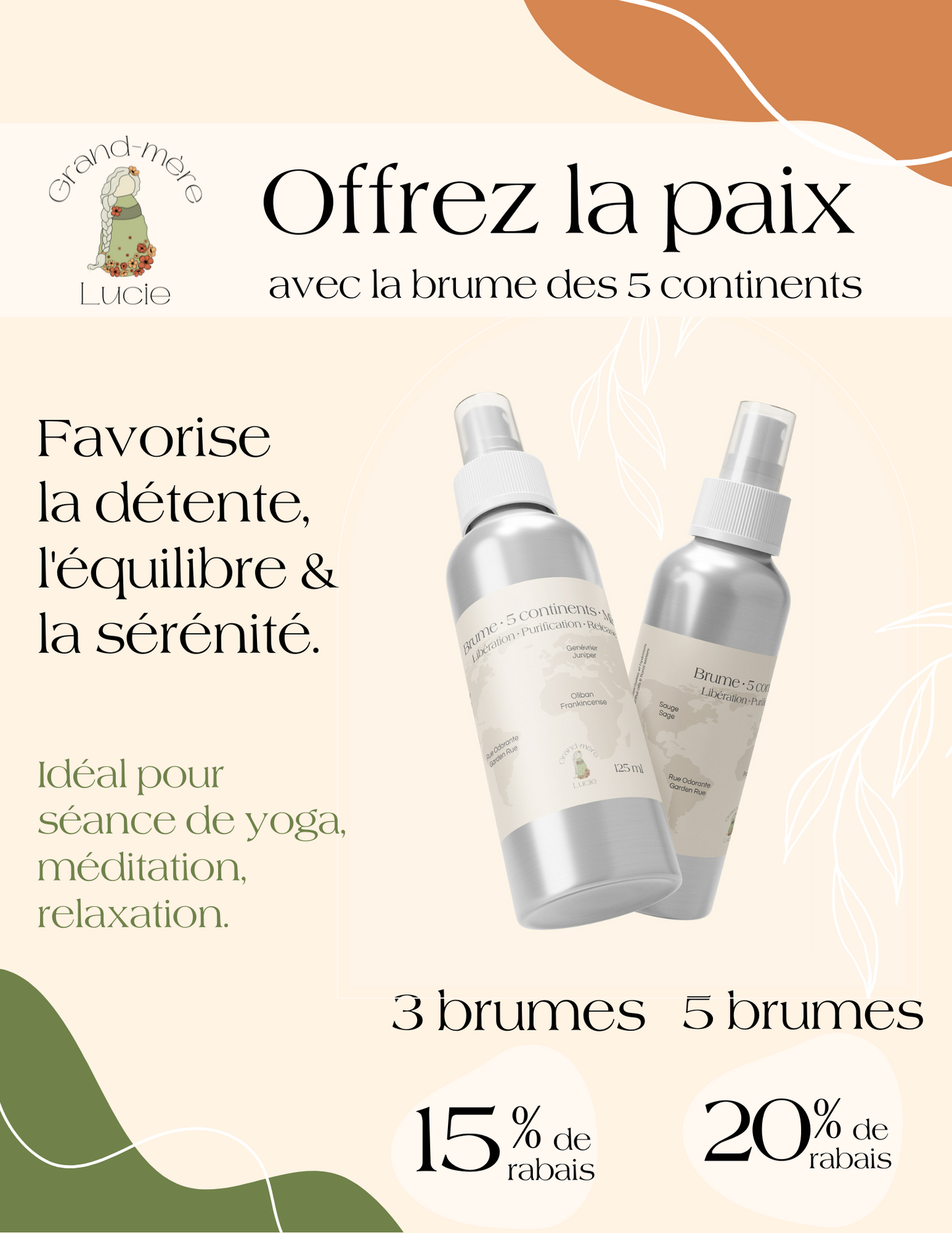 Discover another purification tool
No 0 Balance, energy synergy
Regular price
Sale price
$16.00 CAD
Unit price
per
Sale
Sold out
Share
View full details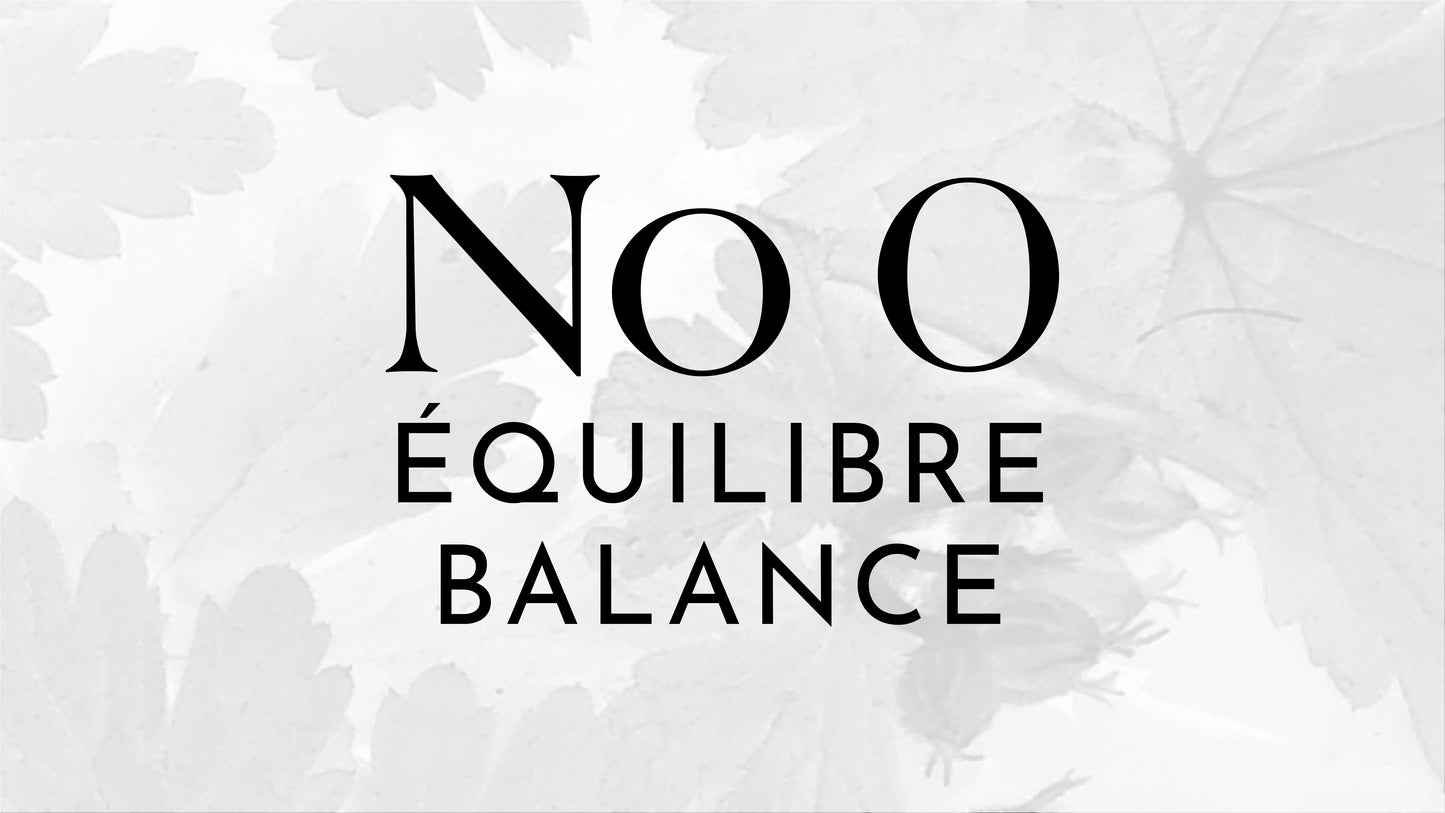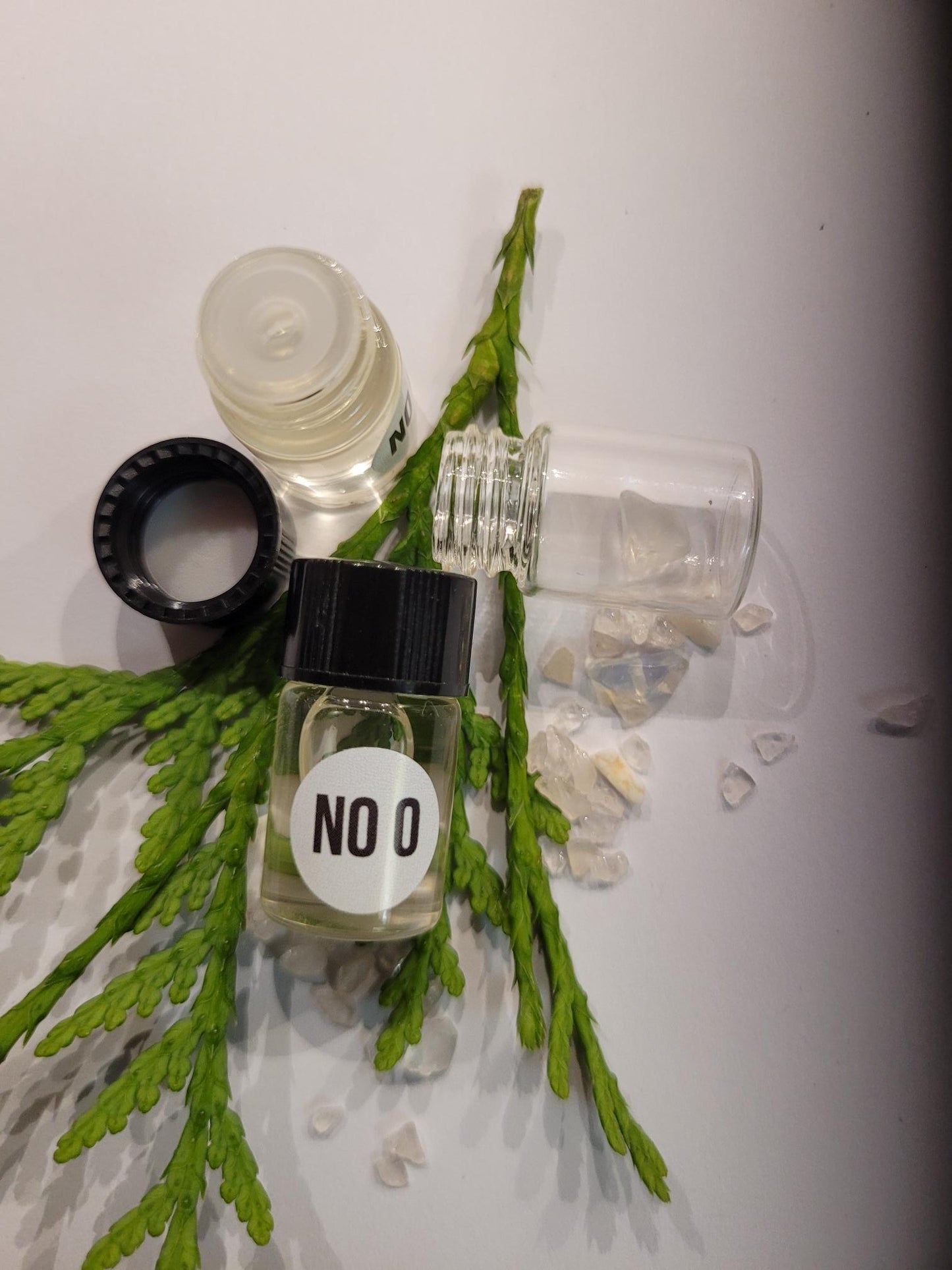 Want to learn more?
Discover Grand Mère Lucie's Subtle Aroma training